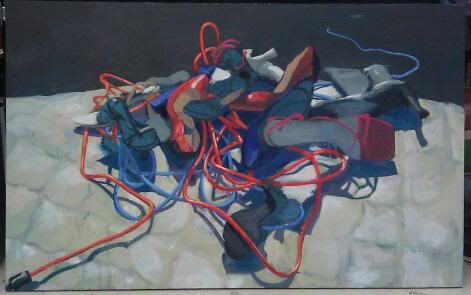 "Untitled (shoes)"

30"H by 48"W, on canvas.

(click for enlargement)
I've had quite a break from the blog after the move, and I'm also quite pregnant, so my attitude towards painting has changed a bit. Oil paints aren't inherently toxic, but a lot of mine contain cadmium, cobalt, and even lead- and the Gamsol I use to clean my brushes is also hazardous to breathe. So when I paint now, I use no medium to thin my paint, and I use dish gloves on my hands to make sure that nothing toxic can get on my fingers or under my nails. As an alternative to Gamsol, I've been using baby oil to get the pigment out of the brush hairs and then some dish soap in the studio sink.
This painting has taken a long rest but yesterday I found myself re-mixing the colors for the electrical cords and redefining their edges. Now that they pop, I have a bit of work to do on a few of the shoes which haven't even received any paint.
I must also remember to bring my larger camera, as my cell phone camera seems to be very dark. For an earlier look at the same painting, check out this older entry
here.